Skin Products Aloe Juice
MistOral
Radiance
Renova
Retin-A
Valtrex
Vitaleyes


Skin Conditions Skin Acne
Skin Aging
Skin Cancer
Gingivitis
Herpes
Sun Damaged Skin
Sun Exposure
Wrinkles

Younger, Healthier Vital Eyes -- Rejuvenex!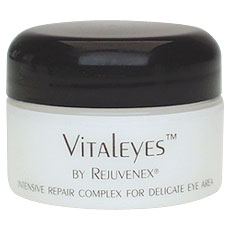 The Eyes Are The Most Expresive Feature of The Face

Younger, Healthier, More Vital

EYES



T he eyes are the most expressive feature of the face. The delicate skin around them is also the most susceptible to the effects of aging and stress. Vitaleyes Eye Cream is specifically formulated for this sensitive region, plus all the powerful anti-aging properties contained in the original Rejuvenex skin cream.

The patent-pending Ribosys complex, combined with the antioxidants contained in VitalEyes, help to promote increased collagen synthesis. VitalEyes protects against free radicals, environmental pollution and UV rays from sunlight. It contains natural vitamin E to help smooth fine lines and wrinkles.

VitalEyes is more emollient, less irritating and more effective in combating everyday problems (including puffiness and dark circles) than any other product. With extended use, VitalEyes will provide a significant improvement in the appearance of the eye area.